SUPER DIET Laboratories
French experts in food supplements containing natural and organically grown plants.

Our production facilities are based in the North of France, in Wavrechain-sous-Denain, and our head office is in Paris.
We have just celebrated our fiftieth anniversary. Since 1961, we have been manufacturing and marketing food supplements containing mostly organically grown plants in France and abroad.
"French pharmaceutical laboratory" status was granted in 1987..
We also market herbal remedies.
Career management
Beyond our group, there are also numerous opportunities for career progression among the various companies within the URGO group.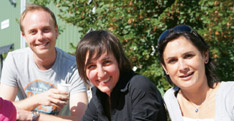 SUPER DIET LABORATORIES is also a company that listens to the needs and wishes of its employees, promoting their potential for career development at the same time. Whether at department or laboratory level or within the URGO group itself, we make every effort to satisfy the desire for progression amongst our talented workforce.
Each time a new opportunity arises, we endeavour to promote from within, whenever possible.
OUR BRANDS
Herbesan :
since 1930, the reputed laxative herbal remedy renowned for generations. Since then Herbesan has become a food supplement – a brand of natural food supplements to promote digestion and vitality
OM3:
since 2003, the expert on the omega 3 market
Super Diet:
since 1961, the organic plant expert
Ricqles:
since 1838, the strong, soothing mint
Oligocean:
harnessing all the energy of the sea according to the famous Quinton method
Our quest for Excellence
is at the very heart of our daily activities. It is endorsed by continuous training, taking the initiative and constant questioning.